About Me
Anja Vernelen

I grew up in a small town in Belgium and moved to the city of Leuven (about 20 miles east of Brussels) after I graduated. I spent most of my career as a buyer. I love the interaction with different parties and hunting for deals.

I moved to Cleveland, OH a few years ago. I love traveling and getting to know people with different cultural backgrounds. My travel experiences helped me realize that everything one does on a professional level is relative. Status or Rank by itself does not impress me much. I am more impressed by people who know what they want and do anything ethical to reach that goal, all the while staying authentic and caring personalities.
View my complete profile

Sunday, July 13, 2014
10:52 PM | Posted by Anja Vernelen |
|
Edit Post
For a long time, many people would decorate a room with a single paint color without paying any particular attention to accent or focus walls. The times have changed, and accent walls are all the rage. Here are three reasons accent walls are important:
They allow even the least decoration-focused homeowner to have a beautiful space.
Accent walls are perfect ways to show off your fun side, without it overwhelming everyone you know and love. Absolutely love coral this season and want it in your life? Paint an accent wall that color—this way, it shows a pop, but does not make your guest nauseous.
They allow you to show off your appreciation of art.
Some accent walls are not even about color, but of walls stacked with lots of different art pieces that compliment, but do not necessarily "go" together. This is an awesome way to show off your knowledge of certain kinds of art and/or your love for cool typography. PLUS, how awesome would it be if your accent wall featured nothing but local artists?
They allow you to paint a wall a color that would have been "too loud" for the whole room.
Sometimes, having to flawlessly decorate an entire home or apartment can be overwhelming—especially for people who do not necessarily care about decorating. Accent walls are the perfect loophole. Only having to focus on one wall here-and-there? Problem solved.
Monday, July 7, 2014
7:44 AM | Posted by Anja Vernelen |
|
Edit Post
Transform your bedroom into a stylish space by following some simple tips and tricks.
If you just sit and think about the elements that an ideal bedroom should have, you will be able to list only a few things: a wardrobe, side tables, lamps, a rug, nice bedding, a sofa (if the bedroom is big enough) or a chair, curtains, a nice big picture/painting, and of course the bed. Decorating the bedroom would mean rearranging only these few items. Here are some tricks:
1.
Choose a focal point
, it could be a beautiful piece of furniture such as a cupboard, or your bed, or a painting hung on the wall and arrange all other things to be in sync with the focal point
2. Have
many pillows on the bed
and pile them all together in a fashionable way. Combine large prints with smaller ones, bright colors with lighter ones.
3. A
wall lamp
with a long, adjustable neck can be a functional alternative to table lamps, thereby saving some space in a small bedroom.
4. You can hang one
big piece of art on the wall
, or have several smaller ones, but make sure everything is in harmony.
5. Use
extra comfortable and soft bedding
to create a great atmosphere, to snuggle together. Use a down comforter, or an ultra-soft eiderdown.
6.
Keep scale in mind
, if the size of your bed is enormous then your lamps should also be proportionately large. If the bed is a small, tone down the variety and go for sleek lamps.
7. Equip your lamp with a
multi-watt bulb
so that you can use the same lamp for reading as well as relaxing.
8. If you love colors and want a colorful bedroom, you can do so by choosing
art and accessories
in your favorite colors, but do ensure that there is harmony and not chaos in the mixing of colors.
9. A great way to
add color
is through the rug. For most bedrooms, a 4x6 foot rug is ideal.
10. Go for a
featured wall
that has your favorite color, and color the rest of the walls in a light tone. Use the same combination for your curtains, and also the bedding. For example, if you choose olive green for the featured wall and off-white for the other walls, then hunt for curtains that have patterns made in olive green with an off-white background. This will give the room a layered feel.
11. Go for an
unconventional ceiling lamp
/some other accessory that can add a pinch of beauty to the room.
12. You can
turn your space more personal
with artwork of those you love; for example, a massive photograph of your child.
Try some of these tips and see what a big difference small changes can make. Enjoy your bedroom make-over!




Wednesday, July 2, 2014
1:34 PM | Posted by Anja Vernelen |
|
Edit Post
No, a plastic cover can't fix this disaster.
We have all been culprits—keeping furniture for far too long, far too many times. You, dear reader, are not the first, and definitely will not be the last. Those rips in your sofa do not add as much character as you think, and that raggedy old lamp just does not light up the room like it used to—but we're here to help. Here are five telltale signs it is time to go shopping for new furniture:
1
1. The rips in your sofa are so big, that if it were a person, you would be shaking the doctor's hand and making funeral arrangements.

Okay, so you and your sofa have been through some of your favorite memories together—but let's face it…it has more scraps and cuts than a six year old that just learned how to bike ride. Do yourself a favor and stop marinating in its open sores.

2. The shade on your lamp is so transparent that it is like not having a lampshade at all.

Some people like bright light, but chances are, if you have a lampshade, you are not one of those people.

3. People tell you your home is "so [insert insulting decade here]."

If someone tells you your apartment has such an "80s style" and you were born in 1994, trust me, it isn't a good thing. Make your furniture current.

4. Your guests would rather stand than sit.

No one REALLY likes to stand all night—trust me, this is a cry for help.

5. You finally went on Pinterest and uttered the words "wait…that's real?!"

Yes. It is real. It is all real. All of these glorious furniture pieces exist, and are calling your name—answer them.
Thursday, June 12, 2014
6:41 AM | Posted by Anja Vernelen |
|
Edit Post
Barry Grossman Photography
When I shifted to my new house, I simply shifted all my furniture and settled down. But, I wanted my new house to feel like home, and I was having a hard time in decorating the rooms to make them feel cosier and warmer. Then a friend suggested using personal accents to add a personal touch. In this article, I elaborate some of the measures I undertook to achieve this task.
1. Don't stack away all your personal stuff inside cupboards. For example, let a couple of your favorite books remain over your center-table. You could also ensure that your favorite flowers are there in the vase. Having your favorite stuff around will give you a warm feeling and a sense of belonging.
2. If you do not like the color of the walls, and you are not willing to take the effort of changing the colors, please give it a second thought. Color the walls in your favorite color, and give your home a personality that you can relate to.
3. Bring out all your good china, cutlery or fancy glasses from inside your cupboard, and use them. Pamper yourself with the best even in your daily routine.
4. Filling the walls with photographs of you and your loved ones is one of the most potent ways to create a cosy and personal space. Swap the photos in the photo frames frequently with older or newer photos and relive pleasant memories.
5. If there is some piece of furniture that you still repent buying, get it out of your home. This will help eliminate the negative feeling every time you look at this furniture, and also create some extra space.
6. Clean and declutter your house at least once a week.
7. Rearrange your furniture and your cabinets once every six months. This will create a new look and you will surely find it interesting to search for newer and more innovative ways to rearrange your furniture.
8. Change the look of your sofa or chair by draping it with a colorful blanket or some other textile. This is a very effective way to give the feeling of new furniture.
9. If you like
fireplaces
or
lamps
, get yourself an indoor fireplace or a beautiful lamp. Sit around it in leisure and relax.
10. You've always wanted to decorate your bathroom, but kept yourself from thinking that a bathroom is not a place to be decorated? Give it a second thought. The bathroom is an indispensable space in your home and it needs as much attention as your living room. So go ahead and put all your creativity in decorating your bathroom with your favorite lamps and
bath vanities
.
11. Color your doors in funky hues. You thought that doors can only be painted in white or brown? Try using peach, pink, or even yellow for your doors.
Try these easy, fun ideas to freshen up yourself and your home, and to make it cosier, warmer and more comfortable.
Wednesday, June 4, 2014
6:18 AM | Posted by Anja Vernelen |
|
Edit Post
Interior design – you must be well acquainted with the word. You might know interior design as something that is done to the home (while spending a lot of money in the process) to make it look good. Have you ever felt the urge to give your home a splendid make-over, but refrained back just thinking about the cost it would incur? What if I say that interior design can be done, by yourself, using your own creativity, and within a fairly affordable budget? Let me show you how.
In interior design, the
focal point
holds special importance, and the easiest way to go ahead with designing a room is to start with the focal point, and build the entire interior design around it. So, what is the focal point? When you enter any room, wait for a second, and look around. What is the
first thing that catches your attention
? This is what the focal point is. A focal point of a room can be a gorgeous
floor lamp
, or it can be a dull center-table with all kinds of magazines and newspaper lying over it. Thus, the focal point is what defines a room, and determines its overall beauty. Deliberately creating a focal point can also help in taking away attention from less attractive features of a room.
The easiest and the cheapest way to create a focal point is to highlight an existing element within the room. This could be a window or a sliding balcony door. Natural light is an excellent attention seeker and a good source of natural light can be converted into the focal point. Spend some extra money in buying an attractive curtain, and you have your focal point ready! A
fireplace
can be a good focal point with all furniture arranged around it in such a manner that the fireplace becomes the center of attraction. A
ceiling light fixture
such as an elaborate chandelier is sure to grab anybody's attention, but this will be a rather expensive focal point.
What if your apartment does not boast of a window or a door good enough to qualify as a focal point? Well, then you will have to create a focal point. However, creating a focal point need not be expensive. Here are some ways:
1.
A Featured wall
is an excellent form of focal point. Choose a wall that is central to the room, and paint it in a color and/or pattern different from the rest of the room. This color could be a bright hue such as orange, mustard, olive green, or bright blue. You can hang your television on this wall, or hang a huge painting over it, and you have your focal point ready! Arrange your furniture in such a way that this featured wall becomes the central point.
2. Even if your windows are small, you can accentuate them by using
oversized curtains
that reach all the way to the bottom of the wall. This will create an impression of large windows behind the curtains, and the curtains can become the focal point.
3. An
antique cupboard
passed down over generations can be a nice focal point.
4. A
large mirror
with a nice frame, or a collection of smaller mirrors placed in harmony over the wall can become an attractive focal point.
5. Similarly, you can
frame photographs
of you and your family and arrange them neatly over an entire wall, or part of it, and your room will instantly become much livelier.
You might have a window with a nice view, and a fireplace as well. In such a situation, take care not to create two focal points. This creates competition, and gives an overall feeling of discomfort and disharmony. Choose one of the two as the focal point, and use the other to balance the focal point.
Once you've decided on what your focal point will be, dress it up to make it attractive enough. If your curtains are dull and unattractive, consider replacing them with bold colors and prints. If you choose a featured wall as the focal point, try accentuating it further by adding recessed lighting or ceiling lighting in such a way that it illuminates this wall and highlights it. Remember to arrange all your furniture to be facing towards your focal point, or with its lines leading toward the focal point.
Choose the focal point cleverly and treat it appropriately and you your room will look so beautiful that your visitors will start inquiring about your interior designer and then you can slyly tell them that the creativity is all yours!.
Tuesday, May 27, 2014
1:21 AM | Posted by Anja Vernelen |
|
Edit Post
The bedroom is your sanctuary where you can rest and recharge. Proper feng shui for the bedroom is essential to your ability to relax and gain control over your life. Here are a few tips to ensure an uninterrupted flow of good feng shui energy (Qi) and deflect any negative energy.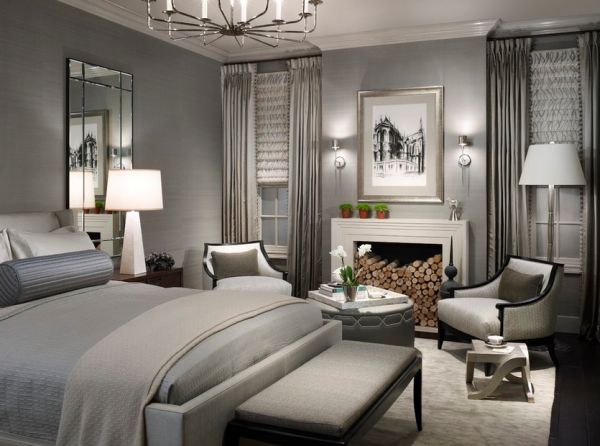 1. No TV, computer, study desk, or fitness equipment in the bedroom
The bedroom is only meant for relaxation and sleep. Do not dilute the purpose of the bedroom by adding things that are meant for otherwise.


2. Add as much natural air and natural light as possible
Have your windows open as much of the time as possible, and part of the curtains to allow natural light into the bedroom. Be particular about the quality of air though; have feng shui air-purifying plants or air purifiers in your bedroom to ensure your do not let in polluted air.


3. Light the bedroom according to the time and mood
Have multiple levels of light, and choose the one that suits your mood at the moment. Candles can also be a good source of lighting, especially when you are in a romantic mood.


4. Add soothing colors to balance feng shui energy
Best feng shui colors for the bedroom are the so-called "skin colors" – pale white to rich chocolate brown. Create a balanced scheme of colors to promote the best flow of feng shui energy.


5. Avoid images of others "watching you"
Avoid a clutter of pictures of people as this may give a feeling of "being watched", and you might not relax to the fullest.


6. Follow the basic guidelines for the bed
Easily approachable from both sides; two bedside tables (one on each side) to create a balance; avoid the bed to be in direct line with the door; have sufficient clearing below the bed for good circulation of feng shui energy around your body when you're asleep.
Follow these simple steps and ensure uninterrupted flow of good feng shui energy in your bedroom.
Tuesday, April 22, 2014
12:54 PM | Posted by Anja Vernelen |
|
Edit Post
Having an office within the home, and working from home is a dream for many. After all, it has so many advantages over a regular office. It saves time travelling from home to office, saves you the effort to drive (and possibly be exposed to all the pollution outside), it gives you the comfort of your own home (that no office can ever give), and most importantly, it gives you the flexibility of utilizing your working hours smartly. The trend towards working from home is on the rise, and I thought of writing an article on furnishing the home office that would be within your budget, and exceed your expectation. Take a look:
This home-office depicts a modern, minimalistic style that features a well-designed desk and a comfortable chair. The desk has a glass top and an MDF frame. It has a long drawer that has many integrated compartments built into it for organizing your stationery better. There is also a provision for a computer keyboard. The glass top makes it easy to look through the drawer, such that the stationery and office supplies in the drawer are in open view and easy to locate. The chair is quite comfortable to sit in with an embedded cushion. However, for long hours of work, I would recommend to go for a more comfortable office chair with features such as adjustable armrests, lumbar support, adjustable height, etc.
Here is a stylish workplace designed especially for the home office. The desk is simple, but features attention-grabbing sawhorse legs. The desk has four shelves for storing stationery items. The chair has a cushioned design with modern look.
This combination of desk and chair can create an extremely stylish and yet comfortable pair. The desk has stylish swoop shaped legs and is a unique combination of wood, steel and glass. This is a perfect example of contemporary design, inspired by the industry. The desktop also has a sliding computer keyboard tray. The chair is made of black bonded leather, is smooth, and accented with contrasting cream stitching. The steel frame has a chrome plating. The chair swivels 360 degrees and has adjustable seat height with tilt control. In other words, this is a chair that has a high style quotient, and at the same time, is highly comfortable to sit on and work for hours.
If your previous employer made you get used to a more spacious desk, this one should be your perfect solution. This contemporary designed L-shaped desk offers plentiful desk space along with a great file storage solution. The desk is made from silver powder-coated steel frame and has a veneered MDF desktop. Pair it up with a timeless office chair that is packed with all features of comfort, and see your productivity increase in no time!

Installing other accessories such as a white board, an office lamp or a pin board may also be a good idea. Invest in a quality home-office and give your work-from-home stint a professional and comfortable touch.